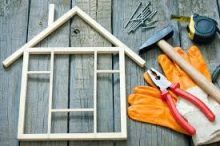 Properties are great investments, and they are places that can provide you with comfort for many years to come, that is of course if you look after your property. Failing to adequately look after your property can end up costing you lots of money, and this is not what you want. As you love your home and the place you live, you want to look after your space and keep it looking good and functioning correctly at all times. There are lots of things that can affect and even cause damage to your property. From intense or bad weather such as storms and hailstones to trees and bushes invading the structure and possibly even foundations of your home.
To stop small potentially treatable problems from becoming major issues, there are some things that you should be aware of and be on the lookout for. Regularly checking for problems and inspecting your home and perimeter regularly will ensure that you catch problems early enough to rectify them.
Signs of Damp (Inside and Outside)
When you are looking at your property, you must look for any signs of damp that may be visible, both inside and outside. When looking at damp on the inside of the property, you need to establish where the damp is coming from. For example, if the damp is low down and needs to be on the floor or ground then this may be caused by rising damp, whereas dampness near a ceiling or roof may be caused by faulty guttering or slipped roof tiles. Any signs of dampness should be noted and monitored, and if they get worse very quickly, then you need to seek immediate assistance from a trained professional.
Signs of Mould
When areas of your property are damp, mould can naturally follow. Mould can be mainly black or white, and the type of mould that develops will depend on where the damp patches are located, and how long they have been left to fester for. As mould can affect health, any signs of mould should be immediately addressed and rectified. You can clean mould yourself with a thin bleach and water mix, but you must be careful to wear suitable protective equipment and not breathe in the fumes created from using bleach. Calling in a professional is probably best to fully eradicate mould as they will know how to safely handle and process any patches that they come across.
Signs Of Potential Issues With Sewage And Waste
Common issues within your property are often caused by heavily used rooms such as the kitchen and the bathroom. Keeping a check on issues within these rooms will save you hassle further down the line. Common causes of sewage backups might not sound like a big deal to start with, but as time passes by, the issue will end up costing you more to rectify and put right. Within your bathroom and kitchen, regularly check that pipes are not leaking and sinks are not blocked. You can see if your sink is blocked by filling it with water, then removing the plug and seeing how long the water takes to drain away. If it is slow, you might have a problem getting rid of wastewater. If you are getting foul smells from your toilet area, sometimes without even using the flush, then sewerage pipes might be damaged or blocked.
Pipes Can Be Problematic
Any pipework can be problematic, and it can all be susceptible to bad weather, poor-fitting, and poor installation. Pipes that are not correctly installed or fitted will end up leaking, and the damage caused could be catastrophic and extremely costly. Over time, older pipes will eventually degrade and this may be problematic, especially if the pipework is located within the flooring or underneath the floorboards, and this is why it is important to keep all pipework accessible as and when possible. When it comes to getting new pipework installed you should seek the advice and guidance of a professional to ensure that installation is correct, as if you do not have enough of a flow on pipework then it can cause the water to sit, and even back up which will leave your room smelling foul.
Nearby Trees, Plants, And Bushes
Plants next to your home look nice, but what happens when they shed their leaves, where do their leaves go if you do not dispose of them? Naturally, they will land in your guttering system and this will then get blocked up. So when the leaves start to drop, ensure that you catch them so that they don't have the opportunity to interfere with your water collection. As well as problem leaves, you may also suffer from damage that has been caused by rogue tree roots. Tree roots can spread incredibly far and very quickly, and they can do lots of damage to any pipes or drainage that they come across. If you have large trees near to your home then you should investigate them at your earliest convenience to ensure that you do not get any unwanted damage which may be difficult, timely, and costly to resolve
Prevention Is Important
Keeping your home neat, tidy, and well maintained is one of the best things that you can do to avoid unnecessary property damage or remediation works. Checking your house from top to bottom at least once every couple of months will ensure that you can spot and fix problems as soon as possible. It can be tempting to ignore a problem hoping it will get better, but unless you have remediation work to a problem then it will continue to persist and burden your life.
Looking after your property also helps you to maintain and possibly even increase its value, so it is in your best interests to keep your home looking as good as the day that you moved in. Remember to not try and tackle potentially hazardous jobs and tasks, as the results can be harmful to your health and the health of those around you.