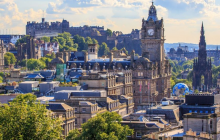 Timing Is Key
Market uncertainty as a result of Brexit and Covid-19 make timing more important than ever. Sold property prices, particularly in well-known hotspots such as the prime EH postcodes, are less likely to soar far above the valuations in the home reports. Dwindling demand as buyers watch the market with more care than they have since the 2008 crash means that we're seeing more "offers around" and fixed prices. Consequently, investors keen to snag a bargain should watch online property portals with care. The more properties that are listed at a fixed rate or at "offers around", the better the chances of a low offer being accepted or of a seller being willing to negotiate.

Rising Demand for One-Bed Flats
Even where prices are dipping a little, sold property prices still far outstrip average salary growth. The result of this is a rise in the number of people being pushed into one-bedroom flats instead of the larger mid-market properties that once would have been their preference. This trend is seen in both the rental and sales markets, and so from an investor's perspective it means both more potential tenants and increased competition for purchases. For many investors, dipping a little deeper into their pockets to buy a one-bed flat is worth it: average yields in the most popular neighbourhoods in Glasgow and Edinburgh are touching six per cent. Industry analysts point to Dalry, Gorgie and Leith as being of particular interest. However, many areas that have good transport links and are close to the city centre are worth investigating. It's an added bonus if a neighbourhood is close to one that's already popular with tenants in the desired demographic.

Spreading Investments
The rising demand for one-bed flats makes it easier for an investor to reduce their risk of suffering a damaging drop to their rental income. It's easy to see why: a void period in a single large property has the potential to be financially devastating. However, an identical void period in one of several smaller properties may be mitigated by the continuing income stream from those other properties.

Looking to the Long Term
It's a truism that death and taxes are the only things of which we can be certain. However, another truism may be that people always need somewhere to live. At no time has this latter point been more clearly demonstrated than during the pandemic. While the retail, entertainment and leisure industries have struggled massively, the property market has been less affected. In Scotland, estate agents report continuing high demand, especially for quality rental properties, to the extent that in some places - such as Glasgow - demand has been exceeding supply. Although inevitably stressful for anyone looking for a new home, this is reassuring news for investors, especially those with high-quality properties in desirable locations. Bridgeton and Govan are just two areas that fit well into this category.

The buoyant rental market has pushed some investors to change their long-term strategy. Where once immediate high yields were everything, some investors are now more prepared to look further into the future. If there's the prospect of solid, if lower yields, over the next ten to fifteen years, then are now more investors interested in buying than ever before. Anecdotal evidence from estate agents suggests that this trend is particularly evident at the low to mid end of the market. Once again, this perhaps ties in with the reduction to the number of first-time buyers; instead of buying their own home, more are now renting.

Don't Forget Home-Working
Although there's now more noise surrounding the prospect of a return to the office, home-working looks set to remain at least a part of many people's working lives. With this in mind, willingness to sign up to a rental home with insufficient space for a dedicated workspace may drop. Separate studies or offices are obviously a plus for both renters and buyers alike, but at the lower end of the market, where space may be at a premium, they are not always possible. However, anyone looking to buy a rental property, especially if they plan to target it at professionals, ought to consider how any particular property could accommodate one or two home-workers. This may make open-plan homes less popular.

Getting a Mortgage
If you need a mortgage to finance your next investment purchase, you might already know that the lending landscape has shifted over the last few months. Wary of the potential fall-out from void periods, more buy-to-let lenders are insisting that borrowers have at least three months worth of mortgage payments put aside. This is a new demand and one that is inevitably adding to the costs of borrowing. Unfortunately, even borrowers who can prove that their existing income stream has not been affected by the pandemic are increasingly running up against the demand.

The Rise of Dundee
It's sometimes a little too easy to over-focus on the Edinburgh and Glasgow property markets at the expense of what else is on offer in Scotland. Somewhere it's definitely worth not overlooking at the moment is Dundee. The extensive ongoing developments on its waterfront, and in particular the impressive new V&A museum, have given the city's profile a massive boost. Local industry professionals report a significant rise in interest in properties - both in the rental and sales markets - in the city. What's more, despite this increased interest, prices across the whole of Tayside remain very affordable. This, in turn, brings with it the promise of attractive yields for investors.

Aberdeen
It's been a difficult few years for many property investors in this city. Falling demand for accommodation from those working in the oil industry has prompted some investors to pull out altogether. Now, however, there are cautious signs that things may be changing. Estate agents working in the city report the most demand for modern well-cared-for HMOs, large one-bed properties and modern two-bed homes. Conversely, properties with tired or dated décor are struggling to find tenants.
Nethouseprice newsletter
You can sign up to our newsletter and join Nethouseprice's community of over 160,000 members who get regular property tips, relevant offers and news, click here http://nethouseprices.com/auth/user-register
Source: Nethouseprices.com 28.06.21