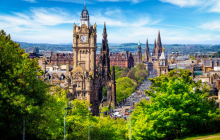 Before you can become a landlord in Scotland, you must choose a geographical area (or areas). You'll also need to set a budget for your purchase, which is likely to mean you track asking prices avidly to work out how they relate to sold property prices. Then you'll probably need to decide on the sort of tenant you want: a young professional, a family, sharers, students, holidaymakers, etc. However, you must also address other issues if you're not to fall foul of the law or risk losing some or all your investment. The two key considerations are the country's rental laws and insurance.

We look at each issue in turn to highlight some of the most important considerations.

1. How Scotland's Rental Laws Impact Your Business

This is particularly important for anyone new to the rental business in Scotland, especially if they have prior experience of letting properties in England or Wales. The system south of the border is rather different, which makes it essential for landlords of properties in Scotland familiarise themselves with the relevant laws and regulations. For instance, private landlords in Scotland have specific legal obligations to:

(a) register with their local council.

(b) get an Energy Performance Certificate for the property.

(c) give their name and address to their tenant, and ensure the tenant is informed of any subsequent address changes.

(d) ensure their tenant has a tenancy information agreement and the correct tenancy information notes. These should be given to the tenant by the end of the first day of the tenancy.

(e) ensure that the tenant's deposit is registered with an approved tenancy deposit scheme.

(f) meet all appropriate safety requirements, including for gas, electricity and carbon monoxide, and carry out a Legionella risk assessment.

(g) ensure the property's external structure is appropriately maintained. As well as its walls, roof and windows, this also includes its drains, gutters and external pipework.

(h) provide the tenant with written notice of any defect in the property or work that needs carrying out.

(i) within reason, allow adaptations to make the property suitable for people with disabilities. Local councils are useful sources of advice on this issue.

(j) check whether the property requires a licence for a House of Multiple Occupation.

(k) ensure that the property meets the minimum physical standard (or Repairing Standard) provided for by the Housing (Scotland) Act 2006. Part of this obligation includes conducting a pre-tenancy check of the property.

(l) meet their obligations for repairs to any common parts of the building.

(m) take out appropriate insurance for a tenement property.

(n) respect the tenant's right to quiet enjoyment of the property. This extends to giving them the minimum notice period (24 or 48 hours, depending on the circumstances) before entering the property.

(o) act promptly and appropriately to deal with any antisocial behaviour by the tenants in or near to the property.

(p) follow the correct legal processes to end a tenant's contract or evict them.

(q) ensure payment of the correct amount of income tax on the rental proceeds.

Although a landlord may devolve many of these obligations on to a letting agent, it's essential to note that the ultimate legal responsibility remains that of the landlord.

2. What Insurance You Need to Protect Your Interests

Any property is a valuable asset that's nonetheless capable of costing you money or depreciating in value if it's not cared for appropriately. Sometimes, of course, no matter how careful you are, looking after a property is going to hit you in the wallet. This can be apparent immediately, such as after a fire, or it may only be noticeable months or even years down the line. The point of a good insurance policy is to minimise the impact to both your income and your capital and to ensure that your property isn't out of step with sold property prices. Moreover, your insurance won't protect only your interests: if you have a buy-to-let mortgage, you can expect your lender to make it a condition of issuing the mortgage that you take out appropriate insurance. As a minimum this means buildings cover, which provides protection for the physical structure of your property as well as any permanent fixtures. You may also want to include some or all the following options:

(a) contents insurance - this is relevant if you are letting a fully or partially furnished property. The precise protections will vary according to the insurer, but it's standard for policies to protect against theft, accidental damage and malicious damage. A landlord's contents insurance policy will not cover any of the tenant's personal possessions; this means that the tenant will also need to take out an appropriate policy.

(b) landlord liability cover - we're talking potential personal injury claims here. Given that these can sometimes run into seven figures, it makes no sense not to insure against the risk of facing a claim. Landlord liability cover protects you against claims brought by tenants or visitors to the property and usually extends to cover the claimant's legal costs (if those are awarded against you as defendant) as well as any compensation.

(c) unoccupied insurance - this can be useful in several situations, including if a property due to be let is currently empty while it's being renovated.

(d) rent cover - unanticipated damage to your rental property as a result of, for example, fire or flood can make it difficult to live in. It's not uncommon for tenants in such situations to withhold rent until the damage is made good - and this is where rent cover insurance comes into play. It ensures that your cash flow is unaffected and that you can continue to meet any mortgage payments or other financial obligations as well as, of course, pay for the necessary repairs.

(e) specific damage repair necessitated by a particular emergency - this typically covers burst pipes, gas leaks and perhaps also pest infestations. It's worth remembering that utility companies may also offer competitive insurance policies to protect, for example, boilers and water pipes beneath the property's premises.
Nethouseprice newsletter
You can sign up to our newsletter and join Nethouseprice's community of over 160,000 members who get regular property tips, relevant offers and news, click here http://nethouseprices.com/auth/user-register
Source: Nethouseprices.com 30.06.21