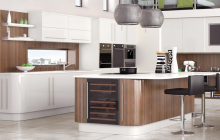 Planning a new kitchen is a big undertaking, with lots of different aspects. We share the top 3 things to consider when starting to create your dream kitchen.
1. Design
When planning a new kitchen, the aesthetic you choose will make a huge impact on your living space. Whether you are opting for a cosy country-style kitchen, a minimalist design or a luxe look, this will set the tone for your kitchen.
One of the main design decisions of your kitchen will be the layout. Of course, this will depend largely on the shape and size of your kitchen. An important decision to make will be how you want your surface areas: do you want to choose an island for a more open-plan kitchen style or would you prefer a large kitchen table for all of your food preparation?
The design of the kitchen will also impact the materials and colours you choose to build your kitchen in. For example, for work surfaces, you will need to decide whether you would prefer laminate, granite, wood or marble finishes. All of this plays a big role in how your overall kitchen design will be.
Functionality goes hand in hand with design. This impacts the layout; for example if you are having a dining area in the kitchen are you opting for bar stools or chairs? Additionally, it will impact the appliances you choose. For example, are you having white goods neatly tucked away behind cabinet doors or will you choose to have a separate utility area?
2. Suppliers
Before creating your new kitchen, you will need to decide who will be responsibility for making your kitchen dreams a reality. There are so many different elements when it comes to creating a new kitchen, from the design stage to the construction stage to the appliance suppliers.
You will need to make the decision of whether you want to use one supplier from start to finish, or whether you will choose to do different elements of your kitchen with different specialists. Both options have pros and cons. If you are redesigning the entire house, it could be worth speaking to your architect to make sure that everyone is liaising and working together.
If you use one supplier, it can definitely make the process more convenient and efficient. However, it may not work out as the most cost-effective option as they will probably outsource some of the work to specialist teams.
Using individual suppliers for each part of the process could be cost effective as you would be able to get competitive quotes and ensure that the person in charge is a specialist in their field. However, it can work out to be far more time-consuming and difficult to manage.
3. Budget
Finally, and perhaps most importantly, the budget of a new kitchen must be taken into consideration. You will first need to ensure that your kitchen plan is realistic and matches the designated budget.
There are many associated costs when planning a new kitchen: the people involved, the decor, work surfaces and appliances. If you are looking to save money, it might be an idea to explore second-hand options.
For those looking to stay within budget, there is also the option of DIY and choosing materials or appliances that can be fitted without the need of hiring someone. Certain work surfaces can also work out cheaper than others; for example, choosing laminate over granite.
If you are wanting to splash out on your new kitchen, kitchen finance might be an affordable and achievable way of financing your project.