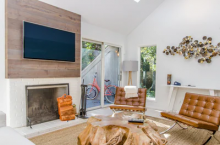 We all like our homes to look neat and clean, it is trendy these days after all. With the rise of minimalism everyone tries to hide the ugly or messy things in their home. Perhaps the ugliest things in any home are the exposed pipes and wires. Most people try to hide the ugly-looking wires by sliding them under their carpets and many people don't even bother to hide them. The same goes for pipes as well, an exposed pipe can totally spoil the entire look of your home by disturbing the overall theme.
These issues seem challenging to fix and most people have no clue where to even start. However, the solutions are rather easy and you can easily make your home look clean and beautiful. We'll be looking at some creative ways you can use to hide the unsightly cables and pipes. So let's get to it and find out how to manage the clutter and make your home minimalistic.
1. Wire Clamps
You can try to use some wire clamps that can be easily purchased from a local hardware store to better manage your exposed wiring. Many people underestimate the clamps and think of them as only a cable management tool. However, there are various clamps available in the market and some of them aren't even visible from a distance. You can easily route your cables and wires through points that lie behind furniture or decorations to keep them discreet.
2. Hide Them
This point is similar to the last but this is more about hiding them than rerouting them. You can use many sneaky and clever ways to hide your cables and pipes, some of these include wooden pipe covers, modular blocks, skirting boards, and even your curtain rods. Hiding wires will be easier than the pipes because of their lower profile, the skirting boards are commonly used in every house and are one of the best things to hide cables with. However, in the case of a larger pipe, you will have to look for something that is bigger in size.
3. Embrace the Awkwardness
Some people choose to go the opposite way and they showcase their awkward pipes in the most presentable manner. You can easily paint your pipes using a new color or decorate them however you like. This will make a bold statement and if you are trying to adopt a rustic look then it will help you accomplish just that. Just try to make it more tasteful and suited to your overall theme rather than contrasting it.
These are some of the tips that you can implement in your own home to hide the various pipes and cables. If you don't hide them, your house will end up being much too cluttered and it will clash with your minimalistic aesthetic. These tips are pretty easy to implement and will take less than a day to fully apply, so try out different creative solutions on your exposed pipes and wires and you will definitely find one that works for you.