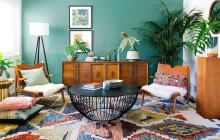 Everyone has spent a long time at home over the past year, and you may be starting to feel fed up with looking at the same four walls. But what if one of those walls was a different colour? Or the kitchen where you have been cooking three meals a day, every day, for 365 days, is given a quick and easy makeover?
As lockdown restrictions are lifted across the UK, many of us are looking for ways to spruce up our homes ready to welcome loved ones back now we're able to start socialising again. So, now is the perfect time for a change. Even the smallest of touches can transform how you see a room and how you feel in it.
Re-think your lighting
Lighting plays a big part in how a room looks, and each room needs its own consideration.
You may want soft, romantic lighting in the bedroom; a space to unwind. A new pendant lampshade to complement your bedding and soft furnishing colours, a couple of bedside lamps ideal for reading, or even the addition of fairy lights along the curtain rail or the headboard of the bed, can each have a different and positive effect on the mood and environment and provide a sanctuary.
Kitchens on the other hand demand a starker lighting scheme, perhaps with the use of spotlights or under-cupboard strip lights, to enable you to see exactly what you are doing when you are preparing and cooking food. This is also an opportunity to introduce coloured lighting or something a bit funkier than the norm.
Dimmer lights are ideal for living rooms, allowing you to turn them to the perfect level for watching TV, reading a magazine. You may have a dining table which needs separate specific overhead lighting to make the space more intimate, but still allow you to see what you are eating.
Making changes to your lighting scheme may involve an electrician coming in to do some rewiring, but can make a massive difference to how you view, and use, your rooms.
Transform the kitchen with a new worktop
The kitchen is often thought to be the most important room of the house, and an enviable kitchen can be a huge selling point both to friends and family as the heart of the home, and to any prospective buyers when you come to sell.
Sometimes a single change, such as new or repainted cupboard fronts or a new worktop can completely transform the aesthetics of the space.
"Homeowners can match the worktops to their existing kitchen design scheme with ease," says Murat Yashar, Director at House of Worktops, "making the redesign process much easier and potentially cheaper as well.
"Whether you'd rather have a laminate worktop that mimics the look of wood, marble, granite or a solid stone surface, the choice ultimately rests in your hands and the style of kitchen you are hoping to achieve."
Choose an accent wall
There is no need to repaint a whole room to refresh it, with just one accent wall often making a bold statement. This can be done with a complementary paint colour, or the addition of wallpaper. It can feature stripes or geometric designs or even glitter, metallic or chalkboard paint. There are no hard and fast rules, an accent wall can be utilised however you want it to be.
You may decide to build end-to-end shelves for a dramatic feature and useful extra storage, or to completely cover a wall with framed photographs to really make it your own.
Bedrooms and living or dining rooms are the most popular for this sort of treatment. You just need to choose which wall would work best for your plans and make the most difference to your home and your life.
Dividing a room to create zones
Changing the practicalities of larger rooms to give contained zones within it can really help you to manage how you use the space. A large bookcase, folding screen or even a sliding door can divide a room, but also leave you the option to open it back up again easily if the situation demands it.
"Room partitions aren't just useful—the right one can introduce texture, dimension, and colour into a room, whether it's the illusion of privacy, some decorative personality, a small-space solution or strategic layout you're after," says Hadley Mendelsohn, senior editor of House Beautiful.
Getting away from family members or housemates for some time alone has been crucial over the last year, and this simple solution allows you to do just that. It can also make a room seem cosier in the winter months.
Pot plants vs. dried flowers
Pot plants can literally bring life into a room. Not being able to go outside as much has seen many people turn to plants they can have inside their homes. But, for those of you who aren't so green-fingered, dried flowers can also bring a splash of colour into a room.
Interior designer Jules Upton of Oval Interiors says: "One of the biggest trends we can expect to see in 2021 is the use of dried flowers to decorate the home. A change from the usual green and vibrant houseplants, which are still as fashionable as ever, using dried flowers last longer and don't require any maintenance."
Final thoughts
However you plan to transform your house, whether it is a tiny modification in just one room or a complete interior refurbishment, have a think about how you currently use each room, how you'd like to use the room and what changes you need to effect to make it work for you. It might just be a cosmetic variation to brighten up the space, or a practical solution to an ongoing and frustrating problem. Either way, it will look fresh and feel revitalised.