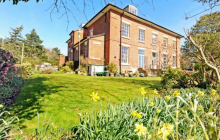 Although less headline-grabbing than the government's lifting of coronavirus restrictions, the news that sold property prices in June are expected to be record-beating will concern many would-be buyers. Those hoping to buy a rural property may be even more concerned: figures published in the Guardian suggest that countryside homes are increasing in price at twice the rate of city ones. Consequently, wherever you're hoping to buy, it's more important than ever that you approach the purchase process carefully and watch for hidden pitfalls that could cost you even more than the headline figure.

1. Look online
Casting your search net as wide as possible is almost always crucial. This means searching online, which is where the vast majority of properties for sale are advertised. Set up regular search alerts on the likes of nethouseprices to notify you as soon as a property of interest comes up for sale. And don't forget to ensure your search parameters include properties priced more than your maximum budget; this is because asking prices are frequently aspirational and do not take account of any wiggle room for negotiating downwards.

2. Make use of estate agents
While nethouseprices and other property portals definitely have their place, sometimes there's no substitute for a bricks-and-mortar estate agent. What's more, getting to know a particular agent can sometimes - no pun intended - get you in on the ground floor, with a heads-up as soon as a property comes onto the agent's books. A candid chat with an agent with good local knowledge can also help you gauge how realistic are your purchase aspirations and how long you're likely to have to wait before a suitable property comes along.

3. Research selling prices
Nowadays it's easy to find out all sorts of information that can help you assess how much you should expect to pay for a particular sort of home in your target area. At the click of a mouse, you can discover previous selling prices of particular properties as well as average sold property prices in a discrete location. You can also glean useful information about a property's local area, including crime statistics, flood risk and future neighbourhood development plans. Together, these pieces of information can help you decide how much to offer a particular home.

4. Learn as much as you can from the seller before putting in an offer
The seller (and/or their agent) is an invaluable source of information, and a judicious buyer will want to mine for that information before making an offer. In particular, consider asking:

- Whether the seller has ever had a dispute with any of the neighbours. In certain circumstances, a seller has a legal duty to notify the buyer of any disputes (whether resolved or not), but obfuscatory sellers are not unknown and asking a direct question rarely hurts.

- How many viewings the property has had, and how many of these viewings translated into offers.

- How long the property has been listed for sale. (It's possible to find out this information yourself, although this can be a more difficult process if a property has been up for sale with more than one agent or if it was removed from the market for a period of time.)

- What is included with the sale. Although this information will be detailed on the fixtures and fittings form, it can also be helpful to know in advance of making an offer.

- Boiler age and service history.

- When the property was last rewired.

- Reason for the sale. As well as giving you more chance of uncovering any difficult neighbours or imminent nearby development plans that may be fuelling the vendor's desire to sell, asking this question can also provide reassurance that the seller is serious and isn't just testing the waters. Asking how long the seller has lived in the property may also be relevant.

- Any subsidence issues.

- Parking arrangements.

- The lease. For some would-be buyers, a leasehold property is an automatic "no". If you're not in that category, you should still pay close attention to the length of the lease. Anything below 80 years should sound warning bells. Extending a lease is rarely as easy as you'd think, is usually costly and time-consuming and may necessitate you having owned the property for a minimum period of time before even applying. Additionally, a short lease may preclude you from being approved for a mortgage. A lease of any length usually comes along with a service charge and ground rent, and you should investigate these carefully before committing to the property. Importantly, this includes checking for future potential uplifts to the charges.

5. Check out the neighbours
Pay attention to neighbouring properties as well as their occupants. Well-cared-for homes with tidy, well-cultivated gardens are almost always preferable. If possible, engage nearby residents in conversation to gauge their opinion on the property you're hoping to buy. You're more likely to get a candid view than if you talk to the immediate neighbours, who may have more of a vested interest in promoting (or blocking) the sale.

6. Inspect the property carefully
This is more difficult if you're restricted to a virtual viewing, but try to watch for signs that the property is not all that it seems. In particular, look out for:

- Damp or mouldy patches (and remember that the smell of fresh paint can be a sign that someone has tried to conceal damp).

- Rotting window frames, wooden porches, soffits and fascias.

- Cracks in the brickwork or render or mouldy patches on external paint.

- Leaking gutters.

- Missing or slipped roof tiles.

- Cracks or discolouration on ceilings.

- Doors - internal and external - that don't open and close easily.

- Low water pressure (flush the loos, turn on taps and showers).

- Poor drainage (you'll need to be prepared to lift external drain covers).

- Leaking radiators (rust patches can be a tell tale sign) or radiators that don't heat up all the way across their surface area.

- External doors without insurance industry standard five-lever mortice locks.

None of the above is necessarily a deal breaker, but they may be factors that influence what you offer and how you negotiate.
Nethouseprice newsletter
You can sign up to our newsletter and join Nethouseprice's community of over 160,000 members who get regular property tips, relevant offers and news, click here http://nethouseprices.com/auth/user-register
Source: Nethouseprices.com 20.07.21