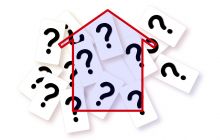 Many people who are hoping to buy a home, whether it's a first purchase or a step up the ladder, focus on getting themselves into the right financial position to do so. While this is sensible, it's not always the whole story. Although we're living in an era of strict mortgage conditions and with a heightened disparity between sold property prices and average salaries, other factors can also intervene to stymie a much-hoped-for property purchase. We take a look at five of the most common obstacles and what you can do either to reduce the risk of running up against them or of scaling them successfully.

1. Not approved for a mortgage

Getting approved for a mortgage is far from a tick-box exercise. Affordability criteria remain strict, and even with an increasing number of 95 per cent mortgages coming on to the market, a hefty deposit is a must for almost anyone who isn't a cash buyer. The longer you can prepare for your mortgage application the better. As ever, paying attention to your credit score, paying down any existing debt and resisting taking out more credit can help. Unfortunately, some factors may be beyond your control. For instance, recent press reports suggest that those in receipt of the government's self-employment grant during the pandemic are having particular problems getting approved for mortgages. A chat with an independent mortgage broker may help clarify your options and zero in on what you need to do to improve your chances of approval.

2. Nothing suitable on the market

This is a real problem at the moment. Estate agents across the country are reporting a significant mismatch between properties for sale and potential buyers. Whether this is a blip in the market or is indicative of a longer trend is tricky to call and, either way, of little comfort to anyone who's eager to buy as soon as possible. Putting in the legwork yourself - with online searches, bricks-and-mortar estate agents and even leafleting properties in areas of interest - may be your best chance of yielding results. Sometimes a willingness to widen the search area or a reassessment of the type of property you're looking for can also help. Of course, so too can the ability to increase the budget.

3. Survey or search results

Pulling out due to the results of a survey or searches on a property is not uncommon. An estimated 11 per cent (2020 figures) of failed sales are attributable to factors highlighted in the survey. Common reasons include:

- structural movement

- damp

- roof issues

- structural alterations without the appropriate planning permissions

Sometimes a buyer's caution reflects their inexperience in the property market. In other circumstances, pulling out the purchase may be the right thing to do - at least in the absence of a renegotiated price.

4. You lose your buyers

Buyers (and sellers) have the right to pull out of a transaction at any point before exchange. Although there's no legally imposed financial penalty for doing so, the reality is that an aborted transaction is likely to cost both parties. The prospective buyer may lose out in terms of money spent on legal fees and surveys. Equally, the seller may already have spent money on their own prospective purchase that is now called into question.

If your buyers notify your estate agent that they're pulling out of the purchase, it's important to find out why. Their reason may be very personal to them: for example, they may have lost their job and no longer be able to afford the purchase, or they may have failed to secure a mortgage. While job losses and other drastic changes to personal circumstances are difficult for anyone to guard against, a rejected mortgage application is an impediment that appropriate due diligence from your estate agent might have protected you against.

Another fairly common reason for a buyer pulling out is where they've found an alternative property that they prefer. In England and Wales, where no one is legally committed to a transaction until after exchange, this is a scenario that's difficult to guard against.

Finally, of course, just as you might pull out of a purchase as a consequence of the results of a survey or searches on a property (see above), your buyers could do the same thing. Short of renegotiating the price, you may have little choice but to seek a new buyer.

Whatever the reason for a buyer changing their mind, the best response from the seller is almost always to get the property back on the market again as quickly as possible.

5. Sellers change their mind and pull out.

This could be because:

- they couldn't find a suitable onward purchase;
- their listing was just to test the water and they've now decided against selling;
- they have accepted a higher offer and you have been gazumped.

A seller changing their mind can be particularly hard to accept if you've already spent money - perhaps thousands of minds - on getting the purchase to this point. The emotional impact can also be hard, which is why some seasoned buyers and industry professionals alike would caution against getting too attached to a property - at least until you are safely past the point of exchange.

To some extent, careful due diligence into a vendor's reasons for selling can reduce the risk of your bumping up against a seller who really wasn't serious in the first place. One who can't find a suitable onward purchase is a harder nut to crack, especially if you are in a chain and want to keep your own buyers. Some people will agree to go into rented accommodation so as not to lose their buyers; others will worry that they might end up priced out of the market if the seller subsequently either demands more money or is still unable to find a property for themselves. Rising sold property prices are a particular worry for those who are buying a property that's more expensive that their previous home. While downsizers still risk having to pay more for a property, they are less likely to find themselves priced out of a purchase altogether.
Nethouseprice newsletter
You can sign up to our newsletter and join Nethouseprice's community of over 160,000 members who get regular property tips, relevant offers and news, click here http://nethouseprices.com/auth/user-register
Source: Nethouseprices 20.07.21