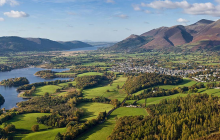 Here in the UK we're fortunate enough to have several National Parks and Areas of Outstanding Natural Beauty (AONB). It's no surprise that these are popular places to live in, and competition for properties can be fierce.

Ten of our National Parks are in England. They are:

1. Broads
2. Dartmoor
3. Exmoor
4. Lake District
5. New Forest
6. Northumberland
7. North York Moors
8. Peak District
9. South Downs
10. Yorkshire Dales

Another three are in Wales:

1. Brecon Beacons
2. Pembrokeshire Coast
3. Snowdonia

The final two are in Scotland:

1. Cairngorms
2. Loch Lomond & the Trossachs

AONB

AONB are more numerous. Between them, England, Wales and Northern Ireland have 46 of them. (There are no AONB in Scotland.) The majority are in England and include the Chilterns, the Forest of Bowland, the Shropshire Hills and the Wye Valley. In Wales, Anglesey, the Gower Peninsula, the Llyn Peninsula, the Clywdian Range, the Dee Valley and - shared with the England - the Wye Valley are all AONB. In Northern Ireland, Causeway Coast, the Antrim Coast and Glens, Binevenagh, Lagan Valley, Ring of Gullion, Mourne, Sperrin and Strangford Lough all have the designation.

Premium Prices

Two years ago, in late summer 2019, Knight Frank commissioned research that highlighted the premiums buyers were willing to pay for homes in National Parks and AONB. Sold property prices for detached homes within the boundary of a National Park were 22.6 per cent higher than prices for the same type of home outside the boundary. What's more, in terms of price at least, not all National Parks were created equal. It may come as no surprise to learn that homes in the New Forest and the South Downs, in the pricier South East of England, are the most expensive.

For AONB, the price difference between homes inside and outside the boundary was even more stark: sold property prices for homes within an AONB were 29.2 per cent higher than those outside. As with properties in National Parks, homes in AONB in the South East, notably the Surrey Hills, are the most expensive. However, the highest premium is to be found on the Gower Coast, perhaps reflecting the area's popularity with second home owners and as a holiday destination.

And after eighteen months of a pandemic and the consequent flight to rural areas by so many buyers, it's likely that homes within National Parks and AONB alike are perceived as even more desirable and so are consequently even pricier.

Driving the Demand

It's not only the pandemic that encourages higher than average prices in the National Parks and AONB. It's also the relative scarcity of housing. Across England and Wales, around 25 per cent of homes within National Parks were built before 1900. This compares to a national average of just 16 per cent. No figures are available for homes within AONB, but it's likely that they are somewhere between 16 and 25 per cent given that planning and building restrictions in these areas are not as onerous as those in the National Parks but generally exceed those in non-AONB areas.

Planning restrictions and, in particular, the rules around permitted development, are complex within National Parks. Proposed housing developments, especially large ones, tend to attract robust opposition, which even a well-financed and organised local authority can struggle against. Developments into which either the developer or the local council has put inadequate thought or planning may struggle to attract approval. This is true even with respect to developments just outside a National Park. A good example is Eastleigh Borough Council's intention to build several thousand new homes in an area directly proximate to the South Downs National Park. Planning permission was eventually denied due partly to inadequate traffic planning. The proposed new homes would not have been close to either rail links or existing motorway junctions. Instead, the inevitable traffic generated would have been taken through small - frequently single-track - roads.

Even a proposed single development can struggle to get planning permission within a National Park. Equally, homeowners hoping to build extensions or conduct other work to their properties have an extra hurdle over which to jump when seeking planning permission.

Consequently, it's no surprise that competition for existing properties within a National Park is so fierce. Deep pockets, persistence and an excellent working relationship with local estate agents are all invaluable to house hunters in these areas.

Public Transport..or Lack Of

As with most other rural areas in the UK, National Parks often suffer from inadequate - or absent - public transport. Inevitably, this places great reliance on private cars.

Schools

Some National Park dwellers are lucky and have a good local school within walking distance. Almost inevitably, however, this will be a primary school. Secondary school is likely to be a bus ride away. School catchments can be large, making after-school and weekend socialising tricky for children. Parents may also find they have little real choice in the schools allocated.

On the Upside

So far, we've seen that buying homes in a National Park is both more expensive than the national average and potentially a longer process (at least in terms of finding a suitable house and making a successful offer). We've also noted the relative absence of public transport and the consequent reliance on cars. But what about once you've actually bought a home? What are the upsides?

Clearly, the flipside of many of the difficulties involved in buying a property in the first place translate into advantages after completion. Properties tend to at least hold their value - and frequently go up in price faster and at a higher rate than comparable homes outside the National Park. And when it comes to selling, buyers often flock to viewings. (That said, listed properties or those that have been inadequately maintained or which are close to a major road may not sell as easily.)

However, many of those who live in one of our National Parks (or indeed our AONB) place greatest value on those factors that are hard or impossible to attach a price to. Space, fresh air, awesome views, excellent walking, the opportunity to horse ride, sail, climb, etc., without making a great expedition out of it are often the crux of the appeal - and they're why no one is expecting demand for homes in these areas to decline any time soon.
Nethouseprice newsletter
You can sign up to our newsletter and join Nethouseprice's community of over 160,000 members who get regular property tips, relevant offers and news, click here http://nethouseprices.com/auth/user-register
Source: Nethouseprices.com 21.09.21