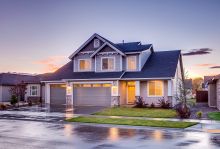 If you plan to sell your home soon, you need to make it market-ready. While we are all warned not to judge a book by its cover, we all too often decide what we like from our first impressions. The first impression for your home comes as the buyer pulls up at the kerb and walks up the front garden path.
Here we look at ways to improve your home kerb appeal to keep the buyer interested enough to walk through the front door.
Keep your garden lawn fresh.
The first tip might seem obvious, but it is a detail often overlooked. If you keep your garden lawn fresh, you give the impression of someone who carefully maintains the rest of the property. It is a sign that you are proud of your home and want it to look its best. By choosing the right seed mix, mowing the lawn regularly, and feeding and weeding it, you can give a pristine first impression.
Tidy up drives, paths, gates, and fences
As with the lawn, the approach to your house needs to give the best impression. Therefore, you need to get those weeds out from between the stones in your driveway and path and refresh the gravel if needed.
Something as small as a gate not working efficiently or a damaged panel on your fence can reduce the kerb appeal of your home. Small maintenance tasks make a significant difference at the front of your home.
Use storage wisely
Have an area of your garden where you are using it for storage. It might be that this is a small garden storage box that keeps your recycling bins out of sight – or it might be something more substantial. Tidying away the detritus from your garden and storing it away makes a significant impact.
Paint the door and frame
Refreshing the door hardware can make a home feel new. Any scrapes and scratches are easily noticeable as you push through the entrance, and tidying these up with a paint job can make a significant difference.
Add some potted plants.
Finally, for a finishing touch, add some pots to your garden. Some well-maintained plants can add a splash of colour and some scent. With the right mix of potted plants and trees, you can add a touch of wow to your kerbside appeal.