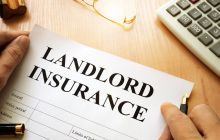 Are you a residential landlord? If so, it doesn't matter whether renting out properties is your main job and source of income or whether it's a side hustle. Either way, you need to protect your interests with appropriate insurance.

And why is this? Well, although potentially lucrative, being a buy-to-let landlord is also a risky business. For example, if your property is damaged by fire or flood, you'll not only find yourself facing repair or rebuild bills, you're also likely to have a homeless tenant who is no longer paying rent. And what if your tenant, or one of their visitors, is injured in your property and tries to hold you legally liable?

What you need to know: the basics

1. Regular household insurance will not protect you and your property. You need special insurance for buy-to-let landlords. Online comparison sites can be a good way of comparing what's available and how much it costs in premiums.

2. Don't get confused by mention of commercial landlord insurance. This is a different product intended to protect commercial property owner-occupiers or commercial property owners who rent out their property to another business.

What your buy-to-let insurance package needs to include

1. As an absolute minimum, you should ensure you have adequate property owners' (or landlord) liability coverage. While not a legal requirement, it protects you against what could be a seven figure claim made against you by anyone injured on your property. It's sometimes included with your building insurance although you may need to pay a premium top-up.

2. The next must-have is building insurance. You'll want this to pay out if your property is damaged or destroyed as a result of fire, flood, explosion, vandalism, a break-in, and so forth. As with owner-occupier building insurance, it's important that you insure against the rebuild cost and not market value or sale price. Primarily, this is to avoid over-insuring yourself and paying a higher than needed premium. As a result, calculating rebuild cost usually depends on a price per square foot rather than market valuations or current sold property prices.

If you've purchased the property recently, the rebuild costs should be listed on the deeds. Alternatively, a chartered surveyor can carry out the relevant assessment for you or you can use the house rebuilding cost calculator on the Building Cost Information Service's website. Three notable exceptions to this general rule concern houses constructed from non-standard materials (for example, concrete or wood), those with specialist architectural features and listed buildings: the rebuild costs for such properties may be higher than either the market value or actual sold property prices. To avoid potential insurance shortfalls, you need to be very careful to insure such a property against its rebuild value.

What your buy-to-let insurance package could include

As well as the above two elements, you are likely to want to include some or all of the following.

1. Landlord contents cover
Obviously important if you are renting out a fully or partially-furnished property, this form of insurance can also be relevant to unfurnished homes. For example, contents cover will ensure any carpets or curtains are protected against damage or theft. Note, however, that your landlord contents cover will not extend to protect your tenant's personal possessions, including any furniture, carpets and white goods. It's therefore important that your tenant knows to take out their own contents insurance.

2. Accidental damage
Not all property damage occurs as a consequence of major events like fire or flood. As most of us know, accidental damage - for example, hammering a nail through a water pipe - is common. You can buy insurance against such damage for the building, any contents of yours in that building, or both.

3. Loss of rental income
If the worst happens and the property is rendered uninhabitable as a result of a fire, flood or similar catastrophic event, your tenants will obviously need to move out. At the same time as the tenants find themselves needing a new home, you may find yourself facing a gap in your rental income. This can be particularly challenging if you rely on that income to pay a mortgage on the property or supplement your own living costs. Loss of rental income insurance will protect you against this for the period during which the property is uninhabitable.

4. Rent guarantee
Tenants who default on their rent are a worrying prospect for a landlord. While, to some extent, you can reduce the chance of this happening by taking up references for prospective tenants, it's impossible to cancel out the risk altogether. This is where rent guarantee insurance comes into its own. Sometimes known as tenant default insurance, it's intended to protect you in the event of a tenant defaulting on their rental obligation. Most policies will pay out for between six and 12 months.

5. Legal expenses
It's no over-exaggeration to state that legal expenses can mount up to terrifying amounts over relatively short periods of time - and choosing to avoid them by not pursuing legal action is not always a viable option. For peace of mind, most buy-to-let landlords opt to include an element for legal expenses in their insurance package. If you choose this option, it should give you access to specialist legal advice, including legal defence, in a variety of circumstances. These include liability issues where someone has been hurt, contractual disputes, property protection (including evicting squatters) and debt recovery (for example, non-payment of rent).

Typical costs

How much you can expect to pay for your landlord insurance will depend on which of the above elements you decide to include, the size of your property, its location and which insurance provider you choose. Currently, typical costs start at around £170 per year. However, as we have already noted, to get value for money, it's sensible to do your research and not just take out the first policy that appears to fit.
Nethouseprice newsletter
You can sign up to our newsletter and join Nethouseprice's community of over 160,000 members who get regular property tips, relevant offers and news, click here http://nethouseprices.com/auth/user-register
Source: Nethouseprices 10.0122