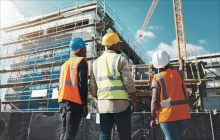 Property development is one of the biggest and fastest-growing industries in the UK. As property developers, it is important to protect your business and future residents. There are many factors that should come into consideration to make your business as successful as possible. This includes, but is not limited to, the type of property you want to develop, the location, your budget, and which stage of development you are at.
When creating new homes, you want to ensure that your business and future residents are protected from any problems that may arise over time. To succeed in the property development market, it's important to protect yourself and future residents with these strategies.
The Essentials Of New Builds
When building new homes, it's important to know what the essentials are. These include things like the location, type of property you are planning on building, and size. There are many factors that go into each stage of a new build. As developers, this is where doing your research comes in handy.
Additionally, while you want to hire someone who has been doing this for a long time and knows what methods work best for your project, you should also consider using local contractors for your project to bring more work into the area you are developing.
Designing Your Project
If you are planning on designing and building new homes, the first thing you should do is determine what type of development you want to build. There are many different types of developments to consider, including the traditional house style, eco-friendly developments, and modern developments focused on space efficiency. This information helps to determine what your project will look like and how you will develop it. It also helps to identify what materials your properties will be made out of as well as the architectural style.
Creating An Environmental Friendly Build
The first strategy is a focus on creating an environmentally-friendly build. There are many issues that developers and future residents should be aware of when it comes to the environment. One of the most important aspects is making sure your development has green features in place that will reduce your impact on the environment and make future residents feel more comfortable with their new home.
Additionally, it's always important to make sure you use natural materials such as stone, wood, and plants when designing properties so that you can minimize any damage you may cause to the environment. This strategy is essential in order to ensure that future residents are happy with their homes and satisfied with your business as a whole.
Choosing Sustainable Materials
It is important to choose sustainable materials when developing new homes. Sustainable materials are eco-friendly and reduce the amount of waste that would otherwise be generated. They are also more affordable than non-sustainable materials. For example, if you choose environmentally friendly materials for your project, you will spend less time, money, and effort on maintenance and repairs over time.
Also, choosing sustainable construction methods will help limit environmental damage to the land and natural surroundings. Additionally, it's more likely that future residents will have a positive experience with your property development as they know they are not contributing to environmental problems.
Investing In The Right Warranties
All property developers should invest in the right warranties to protect their business and future residents. Whether you're building a new home or developing an old property, investing in the right warranties can save you thousands of pounds.
Investing in the right warranties is beneficial for your business because it protects your investment. If something goes wrong with a home you built and the warranty is valid, then you'll be able to receive compensation for any damage that occurred as a result of that problem. This will also give the future residents peace of mind as they will not have to worry about fixing any issues themselves.
Getting Latent Defects Insurance
If you are building new homes, it is vital that your business has latent defects insurance in place. This ensures that if any problems arise with your property over time, the insurance will cover these issues. For more information, visit BuildSafe and find out about latent defects insurance here. Know that you should work with experts like this in order to get the best coverage possible.
There are many types of potential risks that developers should protect themselves from when developing properties. It's important for developers to research the different types of risks they could face before they start building their projects to ensure they have all the necessary protection in place before construction begins.
Being Smart About Your Development Strategy
It's essential to have a development plan in place before you start building your property. By having a well-thought-out plan, you will be able to see where you are going and how you are progressing. This will allow you to make changes when needed and avoid confusion with future investors and residents. Without a clear strategy, it may be difficult for you to get the support you need from other parties to successfully complete the project.
Adding Green Spaces To Your Development
Adding green spaces to your development is an excellent strategy to ensure that your homes will be environmentally friendly. This also provides residents with a beautiful place to relax and enjoy nature on their doorstep.
In addition to adding green spaces, it's important to have plans for long-term sustainability for the community. This includes establishing a master plan for the area, including maps of where new and existing homes are located and how the area will develop over time.
Encouraging Future Residents To Ditch Their Cars For Bikes
One of the most important things you can do for your business and future residents is to encourage them to ditch their cars and use bikes instead. This will help reduce the number of cars on the road, which will decrease congestion and polluting emissions in a city.
A great way to encourage this is by including cycle routes into your development plans. You can also work with local authorities and encourage them to install additional bike racks found in different city areas. This will make it easy for people to decide which form of transport they want to use when commuting, and ultimately help them ditch their cars and save themselves a lot of money on fuel costs which they would usually spend on c