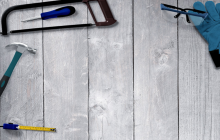 2022 is the year of the renovation. After two years of isolation, COVID-19 restrictions, and remote working, most homeowners are tired of seeing the same four walls staring back at them.
As 2022 brings with it a glimmer of hope and easing restrictions, it also brings the 'fresh start' of the New Year.
For those intending to renovate in 2022, it's time to get organised. Renovations should be fun. They shouldn't be times full of stress, over-stretched budgets, and worry.
After a stressful few years due to COVID-19, it's important the renovation process goes as smoothly and easily as possible. That's why, in this article, we will be sharing the steps you can take for an easier home renovation in 2022.
Have a Clear Objective
The first step in any home renovation project is knowing what you want to achieve. Without a clear goal, it can be easy for your project to get out of hand and your budget to be wasted. So, have a clear objective.
Whether you want to renovate your home to increase its market value or you want to make more space for your growing family, you need to know the goal of your renovation. Once you have set a clear objective you can move purposefully forward with the project.
Secure Your Payments
Renovating your home is a big job and it can take up a lot of time, money, and emotional energy. As such, many homeowners want their projects completed as quickly and seamlessly as possible. However, handing over big lump sums before a project commences can be particularly nerve-wracking.
Thankfully, payment processes continue to evolve and become more secure. In fact, more and more tradesmen are using a mobile card reader to make it easier for homeowners to pay for work as it is completed.
Whether you're paying a lump sum for an extension or you are paying for odd jobs around the house, such as fixes to the paintwork or faucet replacements, a mobile card reader keeps all your payments secure, providing peace of mind.
Tackle the Simple Jobs Yourself
Home renovations can cost anywhere from £76,900-£138,800. As a result, it is not surprising that many homeowners want to reduce costs where they can. But which jobs are possible to DIY and which are best left to the professionals?
If you want to tackle the simple jobs yourself, it's important you know what you're doing. Otherwise, you could end up with higher costs and more delays. As a result, some of the best jobs to tackle yourself include:
Groundworks: while groundworks are mostly carried out by machines, some homeowners have properties with limited access or they do not have the budget to hire the equipment they need. As a result, tackling the groundwork yourself is a great way to save money. Groundwork is extremely physically demanding and can be very tiring. However, it is a job that can be achieved by most people - even if you have very limited experience.

Carpentry: there are many different jobs that sit under the carpentry title, which is why we have included it in this section. Carpentry jobs cover everything from building and installing kitchens to staircase refurbishment. For a DIYer with very little experience, tackling jobs such as hanging doors, building stud walls and fitting skirting boards is a great way to save money and finish your renovation faster. Just make sure you have the right tools to hand because having access to a nail gun and a hammer, for example, will make the job a whole lot easier!

Painting and Decorating: this is a job that many homeowners are keen to tackle themselves. However, painting and decorating is not as easy as you may think. It can also be extremely time-consuming. However, it is possible to manage on your own. Just be sure to prepare your space thoroughly by sanding, caulking, and masking off areas so that you can achieve a perfect finish.
Be Mindful of Your Neighbours
The home renovation process is stressful enough without having to deal with complaints from your neighbours. Home renovations can go on for a number of months - sometimes even years. So, it can be helpful to develop a positive relationship with your neighbours and be mindful of them throughout your renovation.
We recommend taking small steps prior to work commencing, such as letting neighbours know of the work coming up and any issues they may face with parking and noise. You should also alert them to working hours so they can be prepared for any noise disruption.
Taking the appropriate steps and being mindful of your neighbours will help your home renovation go smoothly. After all, happy neighbours mean one less thing for you to worry about.
File Your Paperwork
Home renovation projects that are more than just repainting a room or replacing fittings in the bathroom tend to require paperwork. You will need to source documents such as building regulations and planning permissions. Ensuring you file the correct paperwork before your project commences is important.
According to Citizens Advice, "If you don't get the permission or approval you need, you could be fined, prosecuted or made to pay to put things right. You may also have to undo the work, e.g. remove a new extension." So, filing your paperwork and having all the legal bits done and in place, before work commences is essential.
Create an Enjoyable Working Environment
One of the most important parts of any home renovation project is making sure your tradesmen are happy and able to get on with the job at hand. Tradesmen tend to work very long hours and the jobs they perform are often very physically demanding. And research shows that only 1 in 5 homeowners offer tradesmen a cup of tea or coffee on the job.
To create an enjoyable working environment, it helps to provide tradesmen access to facilities, answer to questions, and cups of tea, coffee, or water. Creating an enjoyable work environment is a great way to keep everyone happy and ensure your home renovations tick along nicely.
Final Words
Tackling a home renovation can be a very demanding job. It can stretch you physically, emotionally, and financially. However, we hope the tips above help you have a smoother and easier renovation experience in 2022.