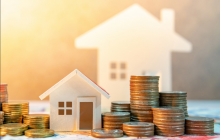 The effects of the pandemic on globalisation went in two vastly different directions. On the one hand, tourism was shut down, companies closed their global offices, and many postponed their global expansion. On the other hand, remote work became much more common and businesses no longer needed global offices to expand.
When it comes to the overseas property market, we saw both effects. For the first stage of the pandemic, people stopped buying property abroad. In fact, people stopped buying property anywhere. Times were too uncertain to make such a big investment, and that uncertainty was twofold if you were not even in the same country as your investment.
Then, things began to turn around. Countries around the world had slashed interest rates, which suddenly made the prospect of taking out a property loan incredibly attractive. At the same time, construction had slowed to a stop for long periods of time, and few people were selling property, leading to a severe lack of supply.
This led to the value of property surging around the world. In the UK over the past two years, the average asking price for property has risen by almost £40,000! In the two years preceding the pandemic, that increase was limited to a still impressive £9,000.
Should You Buy Property Now?
During this time, people have consistently asked whether now is a good time to buy property. People understandably fear a crash, and buying property at record highs seems like a big risk. However, prices have continued to rise, leading to a lot of remorse for those who did not act.
If you have been waiting to buy property abroad, there is no guarantee that now is a good time. But, if you take the risk, you could see significant growth on your investment in a very short period of time. Waiting could mean that you only end up paying far more a few months down the line.
One of the factors you will need to learn about as a first-time overseas home buyer is foreign exchange. It seems like a simple matter, but without the right understanding of it, you can lose a significant amount of money in fees and exchange rates.
Here is what you need to know.
Currency Exchange: Why Banks Will Fail You
It will come as no surprise that exchange rates fluctuate over time. What may surprise you is that this is not the only expense you need to look out for. When you try to send money abroad using a bank, you will be charged high fees just for the privilege. They use the dated SWIFT system which is slow and costly.
Unfortunately, many banks have taken it further and charged hidden fees. They do this by giving you an unfavourable exchange rate and pocketing the difference
For small, once-off transfers, this may not be such a big deal. But when you are regularly sending large sums of money to pay for a property abroad, these fees add up.
Furthermore, the fluctuations in currency can hamstring you. Suddenly having to pay more for your property simply because the exchange rate changed can leave you struggling to make ends meet.
This is why currency exchange brokers are going to be so important in your transaction.
Currency Exchange Brokers
Currency exchange brokers, or money transfer companies, are private businesses that provide an alternative to traditional banks. They focus on international transfers, making affordability and ease their selling point. There are several dozen UK currency brokerages with better solutions than those you will get at your bank.
The difference in price will immediately be evident. By using different systems to transfer money abroad, they minimise the cost of each transfer. They are also far more transparent about their fees. Some companies charge you using a margin on the exchange rate rather than charging fixed fees, and this should be clear when you sign up.
What makes currency brokers particularly useful for property buyers, however, is the functionality they provide to avoid unexpected costs. With features like forward contracts, you can commit to the current exchange rate for a certain period of time. This gives you the peace of mind that you will be paying what you expect, regardless of what happens to the currency pairing during that time.
Before committing to a currency exchange broker, ask if they offer forward contracts to individual investors. Some brokers only offer this functionality to businesses.
The UK is home to many of the biggest money transfer companies, including Currencies Direct and Wise. With more coming up each year, you will find a solution that fits your particular needs.
Stability in Uncertain Times
The reality is that there is no way anyone can guarantee that now is a good time to buy a property abroad. We have seen over the last two years just how much can change in a short amount of time. We will never be able to see the world as "stable" ever again. However, that does not mean we should put off making investments for good.
With money transfer companies offering stable currency exchange on overseas payment, you can at least ensure that you pay what you expect to on your new property. Currencies are most volatile during global crises, and this will help you weather any potential storms.
As a first-time buyer of overseas property, you are embarking on an exciting, if intimidating, journey. Use the above information to help you in your research for the best payment solutions. Remember, settling for the expensive service offered by your bank could land you in deeper water than you expect.