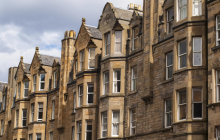 1. Finances

(i) Buyers in Scotland must pay Land and Building Transactions Tax on top of all sold property prices of more than £125,000

Land and Building Transactions Tax is paid to Revenue Scotland not HMRC. A 4 per cent surcharge, known as an "Additional Dwelling Supplement" is payable on the purchase of all second properties and buy-to-let homes. Remember that tax rates are subject to change. Keeping an eye on them is very important in order to make the most of an investment.

(ii) Professional advice and careful planning help landlords keep on top of finances

Many landlords use an accountant to help them manage their affairs, especially with the annual tax return. Maintaining a separate bank account for all expenses and rent receipts from the buy-to-let properties can also help a landlord keep track of finances. So much the better if that account can maintain a balance equivalent to three to six months of rental income to cover unexpected repairs or rental voids.

(iii) Buying a buy-to-let property in Scotland with a mortgage means getting a buy-to-let mortgage

Buy-to-let mortgages usually have higher interest rates than comparable residential mortgages, which makes it essential to get the best deal possible. Frequently this means seeking independent professional advice from a mortgage broker.

2. Property law

(i) Unlike in England and Wales all Scottish properties are freehold, including flats and apartments

The owner of a freehold property benefits by having total control over it, and also by not being obliged to pay services charges, ground rent or other administrative fees.

(ii) "Right to rent" does not apply in Scotland

This means that, unlike as is the case in England and Wales, Scottish law does not require landlords to check that prospective tenants are permitted to rent property in the country.

3. Choosing and preparing a rental property

(i) Location is key when choosing a buy-to-let property

This piece of information won't come as any surprise. However, exactly what it means may need more thought. A would-be landlord needs to think hard about what would appeal to tenants. In general, this is some combination of the following: public transport links, parking, private outdoor space, ready access to nearby parks or other public green spaces, school catchment area, proximity to major employers, and a range of local amenities such as shops, restaurants, sports centres and cinemas. Exactly what will appeal to a particular tenant is likely to depend on that tenant's age and professional and family status. Consequently the choice of location may depend partly on the type of tenant the landlord wants to attract.

A property's location is also likely to be significant when the landlord comes to sell. Obviously sold property prices are usually higher in more desirable areas and, while it can be hard to predict how a neighbourhood's desirability might fluctuate over the years, there are several key indicators to watch out for. Public transport projects, as set out by Transport Scotland, are definitely something to watch. So too are more general regeneration plans, of which Dundee Waterfront is an excellent example.

(ii) Neutral décor usually appeals to the widest possible pool of tenants

Carefully chosen neutrals can make letting a property easier. However it's important to remember that what qualifies as "neutral" may change over time. For example, the magnolia of the 1990s arguably segued into the whites of the early 2000s and the grey's of today. Whatever colours are chosen, it's best to choose good quality paint. Not only is this easier to use, it usually looks better too.

(iii) Good quality fixtures and fittings might cost more but are frequently more cost-effective in the long-term

"Buy cheap buy twice" may sound like a truism but many landlords will confirm that cheap fixtures and fittings often need replacing or repairing far more frequently than better quality, usually pricier alternatives. Good quality items can also help encourage tenants to rent the property.

(iv) Whether or not to furnish a rental property can be a nuanced issue

Whether or not to furnish a property may depend on the type of tenant the property is being marketed at. Student lets are usually furnished and rentals targeted at young professionals frequently are too. However, cities such as Edinburgh and Aberdeen have a relatively high number of professional international tenants looking for short or medium-term lets. Some of this group choose serviced apartments, another option worth considering for a property investor, but others want more a traditional rental property albeit one that is fully furnished. It's also worth remembering that a landlord who's willing to be flexible when furnishing a property may find securing the right tenant to be easier than another landlord who, for example, is unwilling to move a sofa or bed out of the property to make way for the tenant's own item.

4. Finding and keeping tenants

(i) Using a professional letting agent to find and vet tenants for a property can save the landlord time and expense

Using professional letting agents can also make it easier to keep the arrangement on a strictly business footing, which landlords can sometimes find tricky especially if they are first-timers or are renting out a property that used to be their own home.

(ii) Rent rises can scare off good tenants

Landlords with tenants who pay the rent in full and on time, look after the property well and do not bombard either the landlord or their agent with constant requests are valuable. If a landlord is lucky enough to have such a tenant and that tenant wants to stay on in the property, it may make sense to think twice before raising the rent.

(iii) Understanding tenant turnover helps landlords plan ahead

This means having a sense of how long particular types of tenant tend to stay in a property. For example, students frequently stay only for one or two years. Similarly, in larger cities such as Edinburgh, young professional tenants also often have a high turnover rate due to their relative mobility. On the other hand, a family with children may stay for many years.
Nethouseprice newsletter
You can sign up to our newsletter and join Nethouseprice's community of over 160,000 members who get regular property tips, relevant offers and news, click here http://nethouseprices.com/auth/user-register
Source: Nethouseprices.com 23.03.22