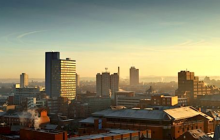 Eight reasons to invest in Leicester

For property investors Leicester has plenty of advantages to offer.

1. Property prices
Leicester has "middling" asking and sold property prices to match its Midlands' location. Average prices across the city currently stand at £259,019, which is around £15,000 less than the UK-wide average. And, while we're making comparisons, it's worth pointing out that prices in Leicester are closer to those in the north of England than they are to those in the south, especially those in the south-east. Consequently anyone looking to buy or indeed rent in Leicester, may find that their money stretches further than expected.

2. Location
Leicester's geographical location and excellent transport links give its residents quick and easy access to much of the rest of the country. This makes the city a good choice for those wanting to keep employment opportunities open as wide as possible. Nottingham, Birmingham and even London are all reasonably commutable from Leicester.

3. A growing population
With a population of around 350,000, Leicester is one of the UK's smaller cities. However its City Council expects the number of inhabitants to rise by 11 per cent by 2031. As house prices continue to outstrip wages and salaries, more and more people can be expected to turn to the rental sector.

4. Strong employment
As well as being home to the HQs of the likes of Next and Dunelm, Leicester is the location of the world's largest crisp factory (Walkers). Then there's the local NHS Trust, which is one of the largest in the country and employs around 15,000 people, while two universities provide further employment opportunities. Both the NHS Trust and the universities employ a significant proportion of people on fixed-term contracts, and many of this group will naturally turn to rental homes to meet their accommodation needs.

5. Sport, retail, restaurants, history and culture
As the home to Leicester City FC and the Leicester Tigers, it's no surprise that sport plays a big part in the lives of many Leicester residents. Shops, restaurants, especially those along the so-called "Golden Mile", and other leisure amenities are also everything one would expect of a thriving city and help ensure that Leicester remains a desirable place to live. However Leicester's historic heritage, which includes everything from Jewry Wall, a 2000 year old section of Roman wall, to the council car park that hid the remains of Richard III, also means that the city draws in tourists from across the region and beyond. And of course where there are tourists, there is demand for hotels, bed and breakfasts, and private holiday lets.

6. Students
Around 40,000 students attend Leicester University and De Montford University. Although the universities offer some housing to students, the numbers seeking accommodation far outstrip university-owned and managed properties. Inevitably, the majority of students in Leicester turn to the private rental sector at least once during their university careers. While university accommodation is largely sited close to the city centre campuses, those looking for privately-let homes tend to head for neighbourhoods that have been popular with students for years. These include Evington, Clarendon Park and Knighton, Oadby, Stoneygate, Aylestone Park and West End.

7. Rental growth and rental yields
Although the pandemic may have temporarily distorted Leicester's average figures for rental growth and yields, there seems little doubt that the city remains an attractive choice for investors. Average rental growth currently stands at about 3 per cent, while average rental yield is a little over 4 per cent. However, adding in an average annual house price growth of around 7 per cent pushes the average rental yield much higher.

8. An uncomplicated market
It's no insult to point out that Leicester's property market is not a complicated one. As a general rule, sold property prices rise with every mile from the city centre. Although something of a generalisation, small terraces and waterside flats are particular features of that city centre while inter-war and post-war semis characterise many of the suburbs. Meanwhile, larger detached homes are a particular feature of the city's fringes and its surrounding villages. Couple this with some knowledge of school catchment areas and it's relatively easy to predict how much you'll need to spend to buy a property in any particular area of the city. Let's take a closer look:

City centre properties
Average prices here hover around £180,000. This sort of money could buy you a traditional terraced home, popular with either students or families with less money to spend on rent. Equally, it could buy you one of the waterside flats built as part of an ongoing regeneration scheme designed to promote inner city living in Leicester. Currently, renting out a property in the LE1 postcode could result in an annual 5 per cent yield.

Braunstone Town, Glenfield and the other western suburbs
Go a little further out and the city's western suburbs are where you'll find a strong family market. The area's proximity to the M1 plus a number of nearby business parks ensure it's strong on commuting and employment opportunities. The average home here sells for between £200,000 and £290,000. At between 3 and 4 per cent, yields are lower than in the city centre but demand for homes in the area is buoyant.

North Leicester and North-east Leicester
The average home in these parts of the city is hard to quantify. The area encompasses relatively deprived inner city-style estates, mid-market residential areas such as Thurmaston, and popular "village" locations such as Groby. Property buyers here can expect to pay anywhere between around £200,000 and £260,000. And, as with the western suburbs, average yields hover between 3 and 4 per cent.

South Leicester
Often considered its most desirable, the city's southern suburbs are where you'll find some of the highest prices. Demand for homes along the likes of Harborough and London Roads pushes average prices to as much as £330,000. Elsewhere, in this part of the city, homes start at around £260,000. Once again, average rental yields tend to fall somewhere between 3 and 4 per cent.
Nethouseprice newsletter
You can sign up to our newsletter and join Nethouseprice's community of over 160,000 members who get regular property tips, relevant offers and news, click here http://nethouseprices.com/auth/user-register
Source: Nethouseprices.com 23.03.22