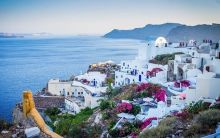 Owning a house abroad - that is the dream of many. Greece in particular is a popular destination for Britons. In this article, we show what to look out for when buying a property in Greece and how to find the right estate agent
General tips on buying a house in Greece
For many, buying a house in Greece is a big dream, and for some it can even come true. We talk about buying house in Greece. But what is there to consider?
When buying a house in Greece, there are several things you should consider. The first is the location of the property. You should consider factors such as climate, proximity to amenities and location in a safe area.
Also, the type of property you are interested in matters. There are a variety of properties in Greece, from flats to villas. You should consider your budget and what type of property best suits your needs.
Another factor is the legal process of buying a property in Greece. You will need to take out a mortgage and have the property surveyed. You should also be aware of the tax implications of buying property in Greece.
If you are considering buying a house in Greece, you should consider these things. If you consider carefully, you can find the perfect property for you and your family.
How do you find the right estate agent?
It may not seem so easy to find a suitable estate agent if you are from the UK and want to buy a property in Greece. If you're a Brit buying a house in Greece, there are a few things to consider when you search for properties for sale. The first is your budget. Before you start looking, you should know how much you can spend on a property.
Location is also important. Greece is a large country with many different regions and climates. Think about where you want to live and what kind of weather you prefer.
The type of property you want also plays a role in choosing an agent. Do you want a traditional Greek house or something more modern? Both types of property have their advantages and disadvantages.
To find a good estate agent, you should choose someone who speaks good English and can communicate well with you. It also helps to ask friends or family for recommendations.
Why buy a house in Greece?
There are many reasons to buy a house in Greece. The country has a rich history and culture, beautiful landscapes, friendly people and a stable economy. Not to forget the culinary delights of Greece.
Greece is an attractive place to live for both retirees and families. The cost of living is relatively low and there are many opportunities to enjoy nature. Greece also has a strong healthcare system.
Retirees can enjoy Greece's stunning scenery and relaxed lifestyle, while families can benefit from the excellent education and childcare facilities. There's plenty to do in Greece, from exploring ancient ruins to enjoying the nightlife in Athens.
If you're thinking about buying a home in Greece, there are many reasons to do so. The country has a lot to offer, from its rich history and culture to its beautiful scenery and friendly people. With a stable economy and low cost of living, Greece is an attractive option for retirees and families alike.
Greece is one of the most popular countries if you ask the British. This is due in no small part to Greece-United Kingdom relations, which go back years. Greece is a popular holiday destination. So why not set up a permanent holiday home and spend time there regularly?
But emigration is also an option for many Britons. Whether you want to live in Greece permanently or just on holiday, a house in Greece is worthwhile for anyone from the UK.
Conclusion
A house in Greece offers many advantages. Whether you want to emigrate from the UK to Greece or just spend a nice holiday, a house is always worthwhile. Before buying, you should always consider the location of the property and what the area has to offer. A good estate agent who specialises in the Greek market is a must.