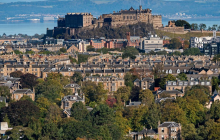 Are you looking to rent in Scotland right now? Or perhaps you're a landlord thinking about expanding your portfolio and wondering where to buy. Whoever you are, take a moment to review our summary of the current Scottish rental market.

Strong demand and high rents

Some commentators have referred to the strong demand for rental properties across many areas of Scotland as "unprecedented". Good news perhaps - at least if you're a landlord.

A recent feature on "Scotland Tonight" suggested that demand for rental homes in Scotland is around two-and-a-half times higher than elsewhere in the UK. Data from estate agents bears this out - and suggests that the hunt for a rental property may be particularly tough if you're seeking a one-bedroom home. These properties are reportedly spending less than a month on the market before being let. And, while a month might sound like a decent length of time, competition for tenancies is fierce. One recent flat-hunter described looking for a one-bedroom flat as "like a full-time job". Even before a property is let, many would-be tenants are finding that viewing slots are completely booked up.

Inevitably, this high demand is reflected in average rentals. Take Dundee, for example, where the typical rent for a two-bedroom flat has risen by an astonishing 15%, taking it to an average of £706 per calendar month.

And it isn't only new tenants facing higher rents. Existing tenants who want to stay in their current rental home are increasingly being asked for inflation-busting rises. One Glasgow tenant reported a recent 23% rental rise. Her consolation was supposedly that the landlord had resisted the letting agent's suggestion to raise the rent by 80%.

Unsurprisingly this buoyant rental market (at least from a landlord's point of view) is starting to feed through to the sales market. Demand for properties suitable as rentals, especially in popular areas of Edinburgh, Glasgow and other big cities, is up. Competition from other property investors as well as would-be owner-occupiers means that sold property prices are also rising, even as mortgage interest rates creep up.

Expensive Edinburgh

Although some outlets are reporting that demand for rental homes in the capital has risen at a slower rate than elsewhere in the country, demand is still up by an estimated 39% on 2020's figures. And, according to Spareroom.com, anyone wanting to rent a single room in the city should expect to pay an average of £611 per calendar month. This is an average rise of £35 on the figure from March 2020.

Average rises in Glasgow are higher than in Edinburgh although, in real terms, rents are lower. Industry analysts attribute the rises to a reawakened interest in city living after the peak of the pandemic. In particular, young professionals and students who may have spent much of 2020 and 2021 living with parents elsewhere are now flocking back to the cities in increasing numbers.

Property selling hotspots - and why this matters to renters

Recent research by Keller Williams UK has pinpointed Edinburgh, Glasgow and Fife as current Scottish property hotspots. The research focuses on property sales - and so these are the areas that have apparently seen the most sales, the highest price rises and where it's most expensive to get onto the property ladder. Obviously, such a strong selling market will have repercussions for tenants as landlords seek to ensure rental incomes keep pace with rising prices. This factor is most likely to be pertinent for anyone renting from a landlord who has recently purchased the property.

Anyone looking for a cheaper home - and, of course who has the flexibility to pick a different geographical area - might want to look at the City of Aberdeen and Aberdeenshire itself. Respectively, the two areas have seen price rises of 1.6% and 1.8%, the lowest in the country.

Looking for a buy-to-let?

If you're looking for a buy-to-let, it probably won't surprise you to learn that Edinburgh is still the hottest market if maximising rental yield is important to you.

Industry analysts have identified the EH5 area of the city as performing particularly strongly at the moment as students and young professionals return to their traditional stomping grounds of Wardie, Pilton and Granton. A one-bedroom property in these neighbourhoods achieved an average rental yield of 6.4% during the first quarter of 2022 while two bedroom homes garnered 4.5%.

Meanwhile, if you want to target the family and older professional market, EH8 is performing strongly. A three-bed property in areas including Holyrood and Willowbrae was fetching an average rental yield of 6.4% during the first quarter of 2022.

Changes to Covid eviction laws?

Prompted by concerns that tenants shouldn't be evicted during the height of the pandemic, the Scottish Parliament introduced the Coronavirus (Scotland) Act 2020. The new law ensured that tenants couldn't be told to leave their homes without warning and, crucially, without winning approval from a tribunal.

Not unsurprisingly, the increased protection was popular with tenants and organisations such as Shelter Scotland. The Scottish government also seemed broadly in favour, with a spokesperson commenting that the new measure "helped prevent homelessness".

Equally unsurprisingly, many landlords and their representative organisations were not in favour. Some reported issues with evicting non-paying tenants or those who had damaged the property or breached their tenancy contract in some other way. Some have also expressed fears that the legislation could impact their ability to sell a property.

The Scottish government is currently considering whether to retain the legislation and make those emergency powers permanent. A representative from the Scottish Association of Landlords warned that to do so would risk landlords' confidence in remaining in the rental market. It could, he suggested, result in significant numbers of landlords withdrawing from the rental business and selling their properties. How a sudden influx of rental homes onto the market might affect sold property prices is an interesting question, especially if the wider economic situation pushes buyers into exercising greater caution over stepping onto the ladder.

Tenancy deposit update

Scottish renters should have received a recent update on their deposit. Anyone who has registered an email address with SafeDeposits Scotland should have received an email telling them about a new system and inviting them to activate an account on it. The changes to the system are designed to make managing the system easier. However, anyone wanting further guidance is invited to view a number of YouTube videos linked to on the SafeDeposits' website.
Nethouseprice newsletter
You can sign up to our newsletter and join Nethouseprice's community of over 160,000 members who get regular property tips, relevant offers and news, click here http://nethouseprices.com/auth/user-register
Source: Nethouseprices.com