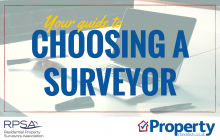 Most people will have heard the term 'property survey' but not everyone, in our experience fully understands what they entail. Did you know for example a mortgage valuation from the lender is NOT a survey? What you need over and above this is a:
Home condition survey – useful to check what remedial costs are needed, such as the roof, windows, doors

Homebuyers report – checks the property condition and also provides an independent valuation of what the property is worth

Building survey – for old or non-standard properties to assess if it's structurally safe and provide costs to cover any works required now and in the future
Not sure which survey you need? Contact us and we'll help, but whatever you do, don't try to save money on surveys as it can cost you dearly in the future.
Read more