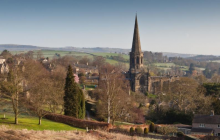 In addition to encompassing a large swathe of the Peak District National park, this East Midlands county also includes the southern Pennines and some of the National Forest. Little wonder, then, that it's such an attractive place to live for those who love outdoor pursuits such as hillwalking, geocaching, paragliding (Mam Tor is a popular spot for this) and mountain biking. Meanwhile, its proximity to Manchester, Sheffield, Derby, Nottingham and even Leicester ensures that it offers plenty of employment opportunities.

If you're thinking of moving to - or within - the county, here are eight of its most popular locations.

1. Matlock

The county town, Matlock is sometimes known as "Little Switzerland" thanks to its impressive rocky topography. The town is a popular holiday destination and, as is often the way with such places, its property prices are on the way up. They currently average just over £273,000 but larger, detached homes frequently exceed £500,000 and sometimes even top £1m.

2. Bakewell

Nowadays known for far more than just its tasty pudding, Bakewell's excellent location inside the Peak District National Park and good transport links have pushed property prices here higher than the county average. The average home in the town currently fetches more than £374,000. That said, of the 23 properties on the open market at the time of writing, more than half are listed for more than this amount. What's more, the most desirable homes frequently get snapped up within days of coming to market. If you want to buy in Bakewell, you're likely to need your feet on the ground in the town and a good relationship with the local estate agents.

3. Ashbourne

This Derbyshire Dales market town is close to the popular Dovedale. As such, it tends to attract plenty of visitors and holidaymakers. Perhaps its popularity and its geographical location have something to do with its relatively high (for the county) house prices. Currently, they average more than £287,000, although large family homes can easily fetch twice that amount.

4. Wirksworth

Another market town, Wirksworth has some beautiful architecture, a church that in some ways resembles a cathedral, and even a 21st-century "stone circle and celestial amphitheatre". It's also home to one of the country's largest rural arts' festivals. Despite this, it's a small town with a population of around 6,000. As a result, you won't find a plethora of property for sale to choose from; at the time of writing, there were 25 properties on the market, plus a plot of land (for grazing rather than developing). The average home in the town fetches almost £247,000.

5. Buxton

This beautiful spa town famously has its own opera house, which plays a central role in the annual summer music festival. As well as opera and mineral water, the town has excellent shopping - including national and local chains, independent shops and even its own department store, Potters, which dates back to Victorian times. It also has a strong reputation for winter sports, with skiing, snowboarding and tobogganing all available locally. Property-wise, competition for houses can be fierce, which is probably a reflection of the relatively high number of incomers who want to move here from elsewhere in the UK. The average selling price is currently around £233,000 although you'll need to pay considerably more - and perhaps wait longer - if you want a detached property.

6. Tideswell

Recommended by the Derbyshire Telegraph, this Derbyshire Dales village is close enough to Buxton (6 miles) to make it easy to enjoy the spa town's attractions and far enough away to have its own distinct identity. In 2017, it also featured in the Sunday Times list of the best places to live in the Midlands. While 2017 might seem like a long time ago - especially after the last couple of years - local Derbyshire estate agents report that demand for homes in Tideswell remains very strong.

The village's strong sense of community, excellent local facilities, good schools, low crime rates and reasonable house prices make it a winner.

If you're hoping to buy in the village at the moment, asking prices start at £100,000 for a two-storey barn with planning permission for conversion into a one-bed home. Alternatively, if you're looking for shared ownership, £125,000 would get you 50% ownership of a 2-bed house. If you're not in the market for a shared ownership property, there's a stone-built character two-bed terrace with attractive rural views listed with a guide price of between £250,000 and £265,000. Meanwhile, at the top of the market, you'll find a Grade II listed Georgian property in the centre of the village at offers over £1,000,000.

Average sold property prices in Tideswell stand at around £329,000, although you could hope to buy a terraced home for some £60,000 less. If you want a detached home, you can expect to pay closer to £500,000.

7. Mercia Marina

This is a bit of a curved ball but if your budget is smaller than you'd like and you'd be happy living on a house boat, it might be one to consider. It's Europe's largest inland marina and its "New and Used Boat Company" has a variety of Dutch barges, narrowboats and wide beam boats for sale.

8. Derby

Finally, we can't finish this list without including the city of Derby. Once more, if you're prepared to look back to 2017, Derby is another place that scored strongly in a where-to-live survey. This time it was MoneySupermarket.com, which put Derby as the second-best family-friendly city in the UK. It owed its high place to a number of factors, including several outstanding schools and its affordable house prices.

Jump forward five years to the present day and you'll still find that more than a dozen of the city's schools are rated Ofsted Outstanding. And what about the house prices? Well, sold property prices have dropped by around 6 per cent over the last 12 months but are still 2 per cent higher than the 2019 figures. The average property in the city currently sells for just under £208,000. If you're looking at the moment, there's plenty on the market, including a number of properties for less than £100,000.
Nethouseprice newsletter
You can sign up to our newsletter and join Nethouseprice's community of over 160,000 members who get regular property tips, relevant offers and news, click here http://nethouseprices.com/auth/user-register
Source: Nethouseprices.com 15.07.22